The professional wrestling world has been abuzz in the first two weeks of 2019, with the official announcement of All Elite Wrestling and the introductory event in Jacksonville, Florida, that proved it meant business. From its inaugural show announced for Las Vegas to talent announcements that included Chris Jericho and Pac (formerly Neville), the excitement for a major shift in the wrestling world is palpable.
AEW was built upon a foundation of momentum established by members of "The Elite" -- The Young Bucks (Matt and Nick Jackson) and Cody Rhodes -- that began with their popular YouTube channel and reached a fever pitch with their record-setting independent event, All In. For most, the type of big swing it took to make All In happen would mean going too far out on a limb, but for Rhodes in particular, an undying love for wrestling and a willingness to risk it all runs in his blood.
When Shad Khan, owner of the NFL's Jacksonville Jaguars and Fulham FC of the English Premier League, and his son, Tony Khan, the general manager of Fulham who also heads the Jaguars' analytics division, decided to step into the wrestling business, it made all the sense in the world to hitch their train to "The Elite" and everything that group was trying to accomplish. In addition to Cody Rhodes -- the son of the legendary Dusty Rhodes, who has stepped out of his father's shadow to explore these uncharted waters -- The Young Bucks and "Hangman" Adam Page (in addition to Kenny Omega and Marty Scurll, who are still under contract elsewhere) built an independent movement that attracted mainstream attention from the likes of Hot Topic, Funko and others on a level not seen for decades outside of the massive sphere of WWE influence.
ESPN recently had an opportunity to talk to Cody Rhodes about a number of topics, including how AEW came to be, the ways it will differentiate itself from the WWE and how this new promotion could end up changing the entire sports entertainment business.
First on the docket? The coup of scooping up a living WWE legend in Jericho.
---
ESPN: How did you end up landing Chris Jericho for AEW?
Cody Rhodes: I guess Chris is kind of that wrestling outlaw. When he came to be part of All In, I think he saw that we had a bigger picture in mind. For several years now the business has literally been changing, and it's just ripe for this movement and this revolution and ultimately this alternative, which is what we're trying to be. He had the foresight to see that. The next piece of that puzzle was he brought us onto the Chris Jericho Rock 'N' Wrestling Rager cruise and the magic continued. I think he's capable of making magic, and I think he wanted to make it with us.
EXCLUSIVE: Chris Jericho (@IamJericho) is Officially signed to @AEWrestling #AEW #AEWRally pic.twitter.com/In6Nc96am5

- All Elite Wrestling (@AEWrestling) January 9, 2019
For recruiting, is AEW going after experienced wrestlers, up-and-coming wrestlers or grapplers from the amateur ranks? Or will it be a mix?
CR: Probably a mix. My favorite word here is fresh. I want fresh. People who haven't ever been seen. One thing that has surprised me about independent pro wrestling is the amount of quality men and women on the scene. The stars are just waiting to be under the big lights. Obviously there is a great deal of veterans, but I don't want to make the mistake of putting that talent on the forefront versus featuring up-and-coming wrestlers. Fresh is everything and nothing is better than when you have a balance.
You add to that one of the greatest wrestlers of all time in Chris Jericho, who continues to reinvent himself -- he's wrestling's David Bowie -- you put him in the same ring with somebody who's fresh and hasn't been seen, it just ups that individual's profile. It's what we call in the business "the rub." That's how I really want to balance it out. I don't want to lean towards one side. You've seen in wrestling, the worst thing you can do is abuse and overuse your legends. You have got to keep it amongst your core contract young and fresh guys.
How did you meet Tony Khan?
CR: I've known Tony for a long time. People are just discovering that Tony is a diehard wrestling fan, on the tape-trader level of wrestling fan. We also bond over the fact that we are huge Trekkies -- he and I are obsessed with Star Trek. He used to come to WWE events. He's actually in the front row in New Japan Pro Wrestling, he's in the crowd at Long Beach cheering, you can find him if you look back on it. So I knew him in a friendly manner long before this ever came to fruition.
So how did it come to fruition? Did Tony come to you and say, "Hey, we are starting an organization," or how did that come about?
CR: A lot of what happened stemmed from me, Matt and Nick [Jackson, The Young Bucks] doing All In. We have just the time of our lives and get a lot of great what I guess I call "consumer feedback" from fans for Starrcast, Conrad Thompson's event, and our event All In. It just seemed to be this kind of renaissance, Woodstock for wrestling, and I just had the idea of, "What if we did this more? What if we did this quarterly or what if we potentially did this weekly?" Everyone said you can't do that, and I don't believe that.
The wrestling I grew up on was that every week. It filled your soul up with the goodness. And Tony was somebody who we discussed initially investing in a sequel show. Once I was no longer under contract to Ring of Honor, which was about two months before Final Battle, that's when we started to get into the weeds a bit on that and talk about the opportunity that exists out there.
What are some of the specific job responsibilities that fall under your role as executive vice president role with AEW?
CR: I am the executive vice president of talent, live events and creative. And that is the job I share with Matt and Nick. It's basically an extension of All In. I don't want to hang out in the past, but it is what we did for All In. It's recruiting talent, it's licensing talent, it's coordinating everything from stage design to scaling the MGM Grand Garden, which is what I was doing on my phone right before we started speaking. This is my dream job. I am doing it all currently. Recruiting talent, talking to talent, making deals, underwriting the contracts -- everything that is under the purview of that job and more because we are a startup.
How will your creative approach be similar to your father and how will it be different?
CR: My dad was executive producer at WCW and was the booker for Jim Crockett Promotions. I learned so much from being his son. I'll be honest -- I don't like when other people say it, but I can say it -- I learned from the things he did right and I also learned from the things he did wrong, because he had to live with them for a good portion of his career. A lot of it is on the board criticism, but I've seen that and I feel like I know what to stay away from and know which direction to go.
One thing we are trying to do here is let guys go out there and play their music like they are going to play it. If I invest in a talent like, let's say MJF [Maxwell Jacob Friedman] for example, it's not my job to micromanage you. My job is to put a spotlight on you. I've seen your set of skills. We looked into you. We recruited you. I'm just using him as an example. Somebody like that, if you are paying them to be on your show, let them go out there and play their own song. Don't give them a new lyric sheet. Don't give them a new instrument. And that's the type of wrestling I grew up on.
If we look at the heyday of WWF in the late '80s and the type of wrestling that I love dearly, those were grown men who knew what the direction was, they got a finish, they got a time, and they went out there and delivered what they delivered. It wasn't something that was micromanaged. Maybe slightly consulted or massaged, but they were the stars, so why micromanage them? We will not be micromanaging anybody.
You mentioned at the rally in Jacksonville that you would like to apply the way the Hollywood treats talent to the wrestling industry. Can you give some specifics as to how that might play out?
CR: You talk about acting and how they treat their talent, my favorite actor was my dad, who was a pro wrestler. It didn't matter whether it was 4,000, 14,000 or 40,000, he put on a performance on the same level as any TV or critically acclaimed film presentation. He did that. Wrestlers who are able to do that should be treated the same as the actors in the world who are able to that, too, but that's a long road, admittedly.
The first thing you've got to do is up the price point. You've got to pay your wrestlers more. And to old-timey, carny promoters who say, "Oh, that's going to put you out of business," I disagree with that. I think if you have a proper merchandising and branding arm behind your brand, that you can absolutely supplement that income as well if you're able to provide genuine content that matches sizzle with substance. We did it once with All In and we plan to do it again with Double Or Nothing.
---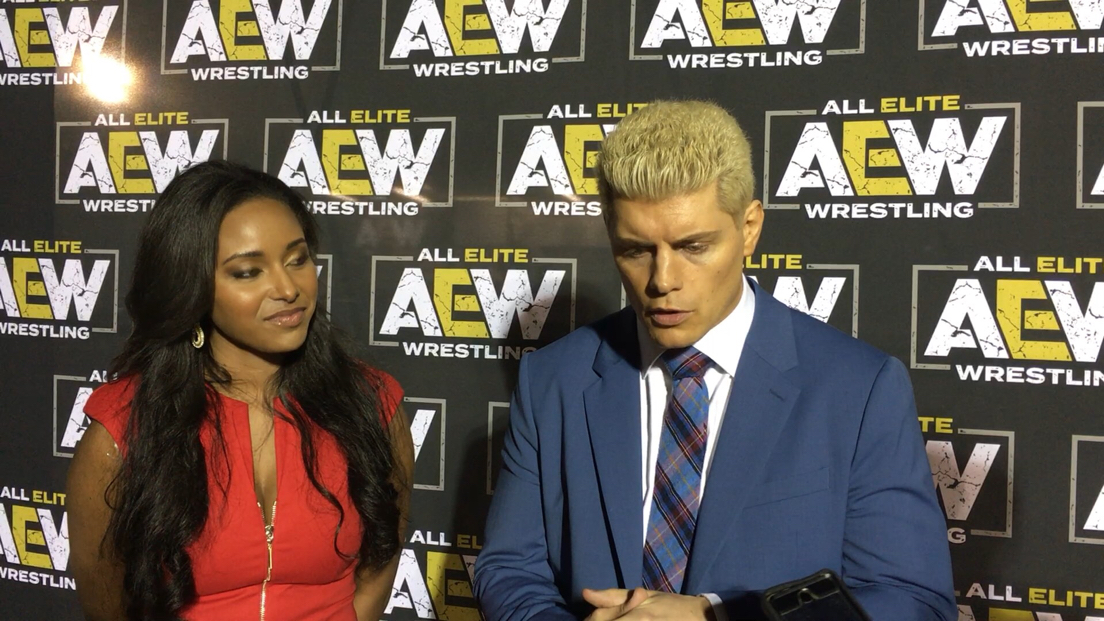 Cody Rhodes on wrestler pay and insurance in All Elite Wrestling.
---
We want to make this a better world for wrestling fans by making it a better world for wrestlers. So the first step you have is you up that price point and you take care of your wrestlers more. The more that happens, we can continue to go.
A union in pro wrestling -- and that's this thing that people say all of the time, and they don't realize it -- a union in pro wrestling would put pro wrestling out of business. But, with that said, we should be actively working towards some sort of body, and this is outside of what I'm talking about with AEW and as me in the executive role, but we should actively be working to have the happiest talent you can possibly have. Whether that starts as a talent feedback system, or a players' league, or some sort of body where there's a complete, transparent communication between those in the office and those in the locker room.
That's massively important, especially when you are traveling the world. I think taking those steps, even if they are baby steps, is great.
AEW has pitched itself as a promotion where wins matter, so much so that Tony Khan has said that wrestlers' pay could be determined in part based on win-loss record. Historically speaking, "wins matter" promotions always have tight controls over creative. Do you see AEW having similarly tight creative controls?
CR: I would say that we are really preliminary in discussing wins and losses and where they will factor. But I can say that we have talked about a rankings system -- again preliminary, who knows if this will happen -- we've talked about an analytical look at who's performing and who the fans want to see perform more at being a scale, when I say wins and losses will matter.
There's another way to peer at it, again preliminary, but if you watch how New Japan Pro Wrestling does the G1, or does tag league, it gives fans something to sink their teeth into. We as kids probably read Pro Wrestling Insider and you'd look at the rankings and things of that nature, and it was something for you to have in your mind and just this other element of the brand and the genre in general, so we're looking at a lot of different things with that. But it is something that has just been said across the board, that wins and losses will have a large bearing in All Elite Wrestling.
How many revenue streams are you looking to develop? Which of these streams do you see as being most important in Year 1?
CR: Unfortunately due to the legality in all of this, I can't speak on the potentiality of a television deal, but I can say we've got Tony and the world that Tony comes from with his business acumen and providing consistent content and what that means for a consumer. I can also speak to the fact that Dana Massie, who is going to be heading up the merchandising arm of All Elite Wrestling, is a frigging genius. She is responsible for Killing The Business [The Young Bucks' merchandising empire]. She is the secret weapon behind that and pretty much, without being dramatic, has changed the independent wrestling scene and I think she knows it.
We're looking at all different avenues but we also have a less-is-more approach. We want to match sizzle with substance, so right now we only have Double Or Nothing happening at the MGM Garden Arena on May 25 and in the following months we are going to have the Jacksonville show, with gate money going towards the victims and families and people affected by the recent shootings in Jacksonville at the Madden tournament. That was something Tony felt strongly about.
Do you see giving a portion of the proceeds to causes something that will happen on a consistent basis, or was this a one-time deal?
CR: One of the coolest parts of this gig is being able to give back in any capacity. It's the most rewarding part of the gig. I try very often to find elements like charitable elements. We have a wonderful chief brand officer, she is the most beautiful woman in the world, my wife, Brandi, that's an area she's heading up. In the next month or so we will probably be announcing another charitable element for a completely different type of charity. I would like to keep that going and continue that. That's something, to bring this full circle, that's something that [legendary promoter] Eddie Graham was really insistent on with Championship Wrestling from Florida, finding a way to support the community. I learned that from my father.
I know we're dealing with a worldwide approach, but the wrestling community, we're able to cover that base. I really think there are so many places we can go and we can potentially have something every night. It is something that I also learned from my experience in WWE, they're absolutely wonderful about it with what they do with Make-A-Wish. I hope that we can follow their lead in that regard when it comes to charitable elements, because that's just a wonderful thing that you can do.
That's life. Don't keep it all to yourself.